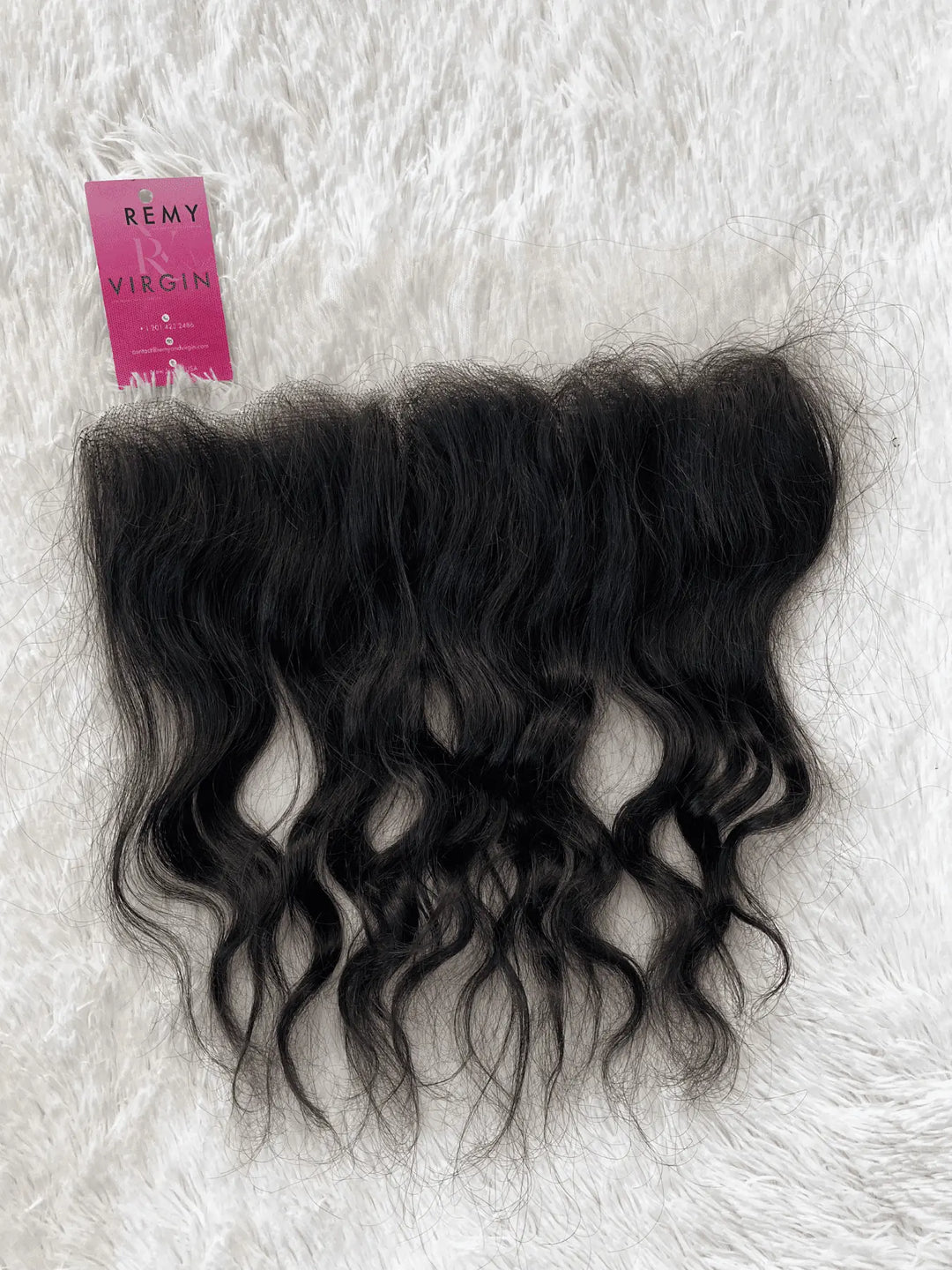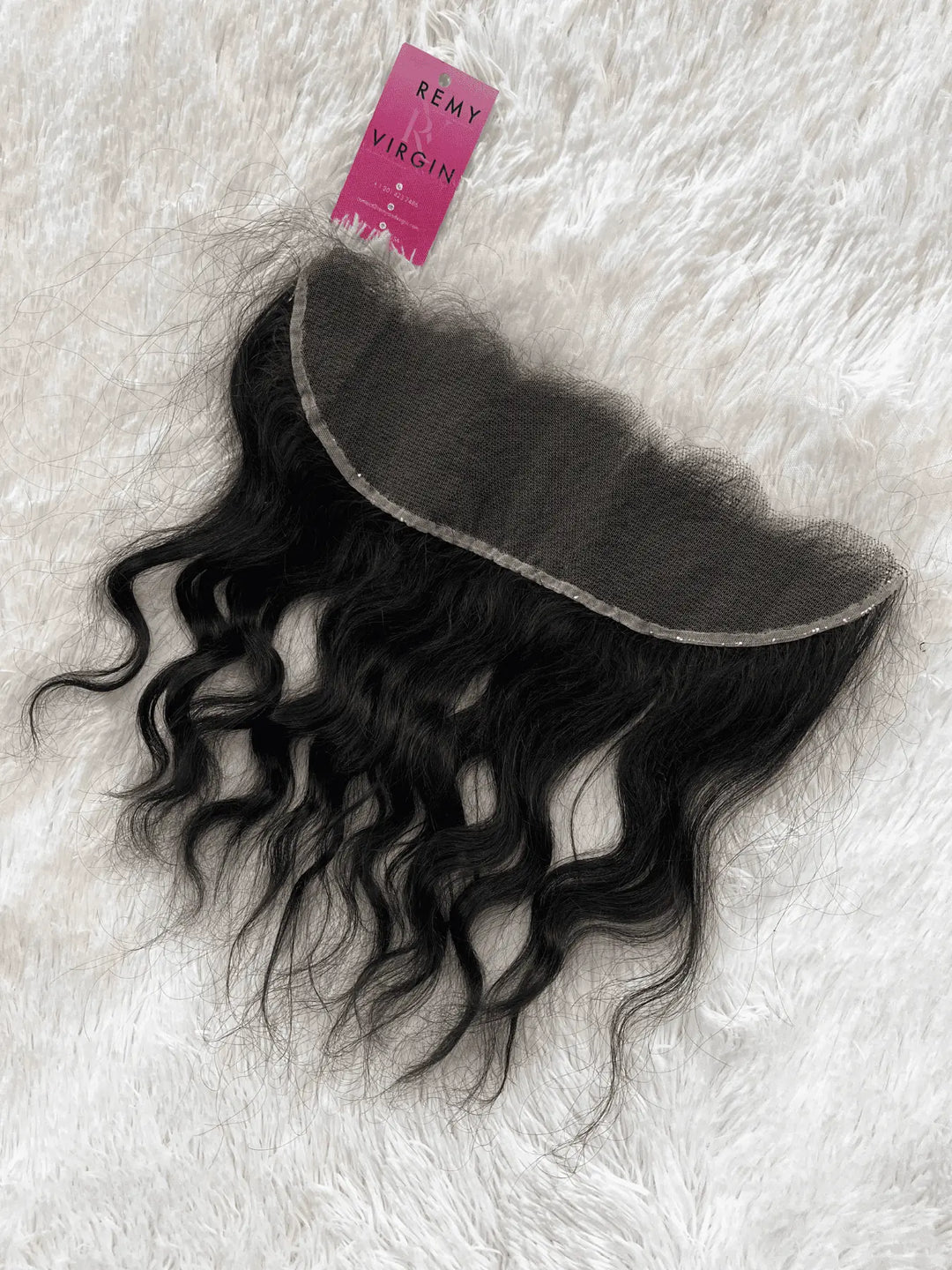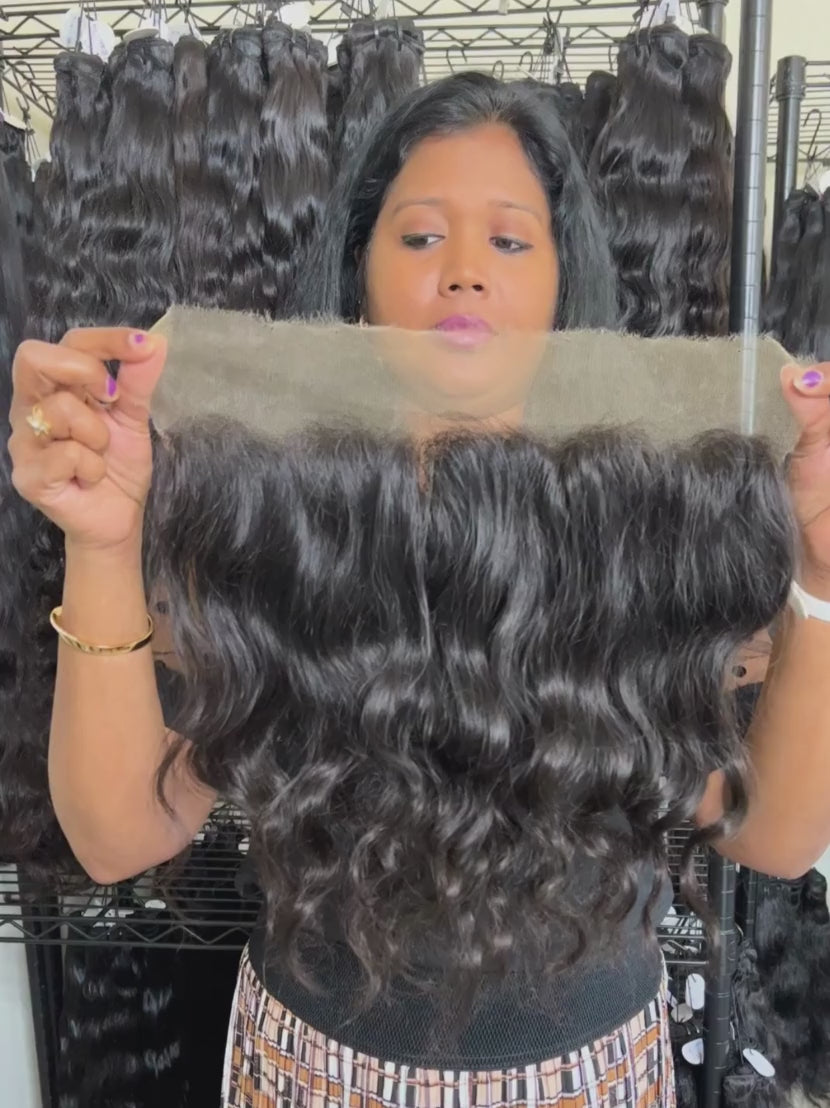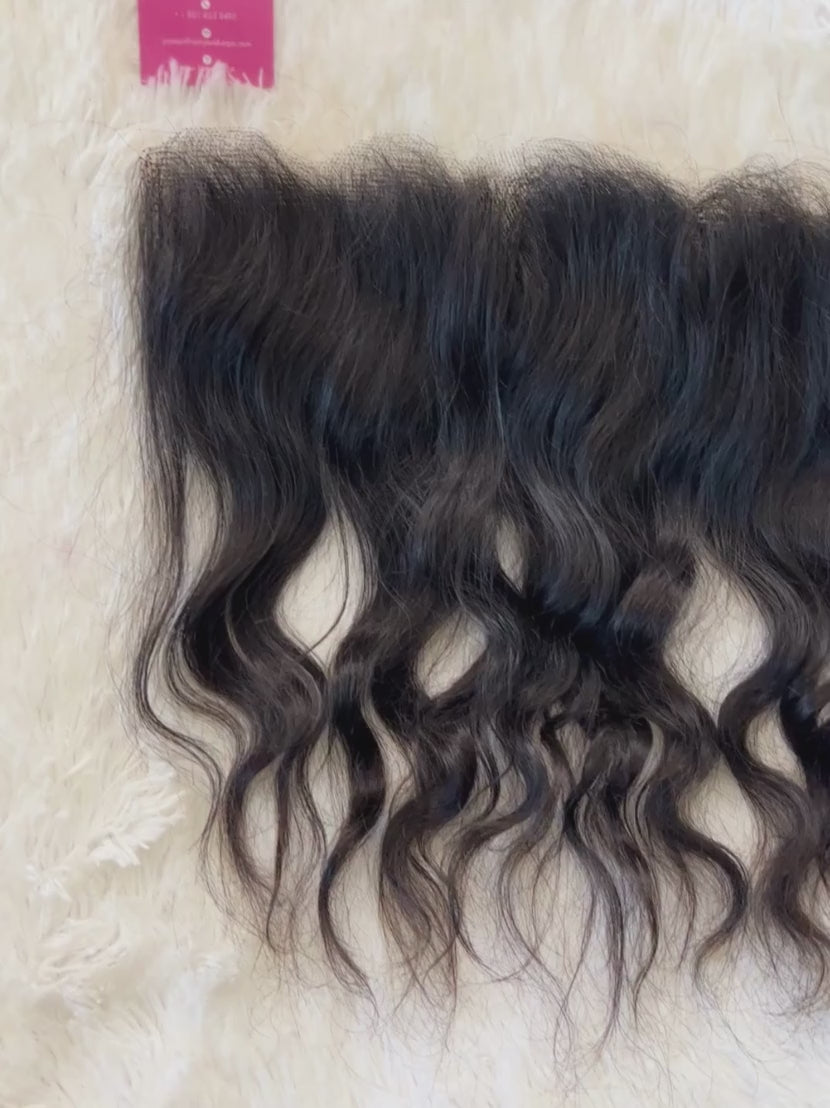 Raw Indian Loose Curly Lace Frontal
In stock, ready to ship

Inventory on the way
---
All packages are securely shipped and require a direct signature.
The prices are per bundle (semi-double drawn). Buy Now, Pay Later is available at the checkout.

Hair Type: 100% RAW INDIAN SINGLE DONOR HAIR.
Sourcing:  South Indian Raw Hair seamlessly match with our Raw Hair Bundles.
Knotting: Double Knotted by hand, roots are not bleached.
Lace Material: Durable HD Lace, Some Skin color may require the lace to be tinted.
Density: Medium Density
Parting: Natural part in any direction
All frontals are meticulously hand-knotted, providing a natural look.D

ouble knots help to minimize shedding and increase the durability of the frontal.

The natural parting allows you to style your hair in any way you prefer.
Made with Raw Indian Hair, the closures and frontals seamlessly match with our Raw Hair Bundles.
Embrace the authenticity and versatility of our Raw Indian Hair, which offers various styling options.
Our closures and frontals are made with high-quality durable HD Lace, ensuring strength and longevity.
The application of the closures and frontals is undetectable and flawless.
Some skin tones may benefit from tinting the lace for a better match.
We advise against bleaching the knots as it can weaken the lace and knots, leading to potential shedding.

Instead of bleaching, a high quality grid knot concealer or lace tints can be used as a safe and effective alternative to maintain the durability and beauty of the lace

As soon as you receive the shipment, all lace products have to be visually examined and can be gently combed to make sure everything looks perfect before the products are co-washed or used. If you find anything unusual please reach us out ASAP before co-washing or using it
SOCIAL MEDIA DISCLAIMER: 
The photos on our social media reflect the typical texture of a bundle in each category; however, the bundle(s) you receive may slightly vary.
Order Notes:
Please mention your preference in Order Note in the Checkout page. Order notes are not guaranteed; however, our fulfillment processors will do their very best to accommodate your request(s).
Remy & Virgin extensions Carries only Natural Textures: Natural straight, Natural Wavy and Natural Curly. Since we only sell raw hair each bundle is from a distinct individual, each bundle is unique. Though very similar, no two bundles are the exact same in texture, color and pattern. As we try our best to pair the most alike bundles together, it's possible to receive bundles that are slightly to moderately different in color shade and texture.
All HAIR comes in its natural off black to medium/light brown shades. We do try our best to choose bundles as requested but since raw hair is natural the softness/coarseness/texture/shades may be slightly different from what you exactly expect, you have to know the right products to be used and the maintenance required to keep the hair styled and maintained the way you like it to be.
WEFT DISCLAIMER
Any hair that has been manufactured and stitched onto a weft is entitled to experience minimum shedding. However, sewing through the wefts will cause the wefts to loosen, unravel, and shed excessively.
To keep your wefts in good condition and reusable, we suggest sewing around the wefts. In addition, we also suggest folding the wefts rather than cutting the weft, Cut the wefts only if its necessary and make sure you putting a drop of weft sealer adhesive on each end of the cut wefts to help prevent shedding.
All of our hair is semi double drawn meaning the hair ends looks more fuller than single drawn bundles, but contains various lengths with less short hair and more long hair throughout the bundle. However, the overall length is determined by the longest hair strands.
HOW TO MEASURE YOUR HAIR
All our products are measured as stretch lengths meaning, your hair extensions should be measured by stretching of the hair to the end.
Start 0 at the weft and measure to the ends of the bundle pulling the hair. All curly & wavy hair extensions must be measured by pulling the hair straight. Again, start 0 at the weft; pull the hair straight from the ends, and the length will be at the tips of the hair. Each bundle will not measure exactly when it is still wrapped in its band, as tension can affect the fall of each strand.
PAY LATER DISCLAIMER:
Rates from 0% APR or 10-36% APR. Payment options through Shop Pay Installments are subject to an eligibility check and are provided by these lending partners: affirm.com/lenders. Options depend on your purchase amount, and a down payment may be required. State notices to consumers affirm.com/licenses.
Payment options through Affirm are subject to an eligibility check and are provided by these lending partners:  affirm.com/lenders.
Order cut off time is 12 PM EST.
All packages are sent with signature on delivery.
We do not offer refund for any shipping delays that includes overnight shipping as well.
We are not responsible for any hair appointments cancellations or delays.
We do not ship to PO Box; your order will get cancelled
Order cancellation/ modifications are not permitted after an order is submitted.

Order Processing & Cut off time:

Any orders placed before 12 PM EST (Monday through Friday) will get shipped out the same day. Any orders placed after 12 PM EST will go out the next business day.

Orders are not processed on weekends and holidays:

We do not ship on Weekends and Holidays. Orders placed on weekends or holidays gets shipped on next business day.

During periods of high volume (sales and major promotions) it will take longer to process and fulfill. We ask for your understanding and patience while we do our best to process and fulfill orders as quickly possible.

Signature on Delivery:

All orders are shipped via FEDEX with signature on delivery! If you will not be home on the expected arrival date/time, you can call FEDEX and request to have your package held at the nearby location provided by the shipping carrier

Shipping Delays:

Please note we cannot guarantee your package will arrive within the allotted time. Shipping companies can be experiencing service impacts which can cause delays in shipping time. In case of any delays, please direct all calls the to the respective shippers before reaching us. We use third party shippers such as FedEx and cannot control ship timing if they face any delays. If you need our assistance here please Email contact@remyandvirgin.com

We do not offer refund for any shipping delays that includes overnight shipping:

REMY & VIRGIN™ Extensions is not responsible for Expenses associated with delayed or incorrect orders. We will not be responsible for reimbursing shipping cost due to any delays.

We advise that you do not schedule your hair appointment until you have received your hair.

REMY & VIRGIN™ Extensions is not responsible for your hair appointment cancellation fees assessed by your Hair Stylist/Salon. We ask that you receive and confirm all items purchased before confirming any and all hair appointments.

Tracking Order

If you provided an email address at the time of purchase, a tracking number will be emailed to you once your order has been shipped. We do not provide refunds or replacements for orders that are lost, stolen or damaged while in transit. Please contact us if you want us to add Insurance to your packages.

Wrong Address Disclaimer

It is the responsibility of the buyer to make sure that she or he enters the address correctly. we cannot change the address on our system, if the address information provided is incorrect at the time of purchase and the only thing we can do is wait to see if the package gets returned back to us. In that case, "Returned to Sender" will be stated on your tracking information.

We are unable to replace or reship until we receive the package returned back to us. if the package gets returned back to us, you can request to get the package reshipped using the corrected address after paying the shipping fee to reship, we do not issue any refunds in this case. However, please note that we do not guarantee your items will be in-stock at the time of your reorder. We also do not guarantee that your item will be the same price as your original order.

REMY & VIRGIN Hair Extensions does not take responsibility for lost, misplaced, or incorrectly delivered shipments, if the address information provided is incorrect at the time of purchase.

International Shipping

Shipping to UK & CANDA, usually gets delivered in 2-3 Business days. International orders typically take up 3-7 Business days for delivery and are shipped via FedEx. International shipping costs on this website DOES NOT cover any tariffs/Customs fee charges by your home country. Please put this into consideration before you submit an order on this site. Remy & Virgin reserves the right to change the delivery method specified on this website to a comparable method. Shipping charges may be more or less than the actual rate charged by the carrier. All shipping costs must be paid in full at the time of the order.

International Shipments must clear customs. The rules and requirements for customs clearance vary by country. It is the customers responsibility to pay any additional taxes, fees or duties or to arrange for any permits or special paperwork that may be required. Invoices are sent with all shipments. This is the only document that will be sent with your shipment.

We advise contacting your country's customs office for respective charges and rates on a package coming outside of your country.
REMY & VIRGIN™ strives for customer satisfaction. We are proud to offer a no-hassle 7 day returns and exchanges on all our hair extensions from the date of delivery. All hair orders are thoroughly inspected before shipping. Inspect the product as soon as you receive it to ensure that there is no imperfections/differences and the product is flawless.
you may wash, condition, and heat style the hair while in the security ties to ensure full satisfaction before using the product. After the security ties are removed or if the product is used/altered/installed, any possibility for return is voided.
Returns or Exchanges must meet the following conditions:
Must raise return request within 7 days from date of delivery
Must be in the security ties
Must not be used or altered
Must not be wet or damp
Must not be chemically altered
Must have proof of purchase
Must be in original packaging with tags
All approved returns are subject to a 10% restocking fee to cover merchant fees. Refunds are applied to your original payment method minus 10% restocking fee & any applicable shipping fees. (**No Restocking Fee for exchanges**)
**Customer bears all the shipping Expense****We do NOT refund the original shipping charge****We do NOT provide shipping labels**
Returns or Exchanges must follow these directions:
Click Here to raise a return/exchange request and wait for approval,
Once approved, Ship the package at your own expense to the address below and email us the Tracking details.
After we confirm its unused/unaltered, we'll issue a refund within 7 to 10 business days of receiving the return.
REMY & VIRGIN™ do not accept any responsibility for any issues that arise once the product is used/altered and issues post installation or cared for incorrectly, (Returns/Exchanges) are not permitted. This includes damage due to color treatments or bleaching, cutting, any hair maintenance Issues, incorrect installation, any other purpose of if any products damage your hair or skin as a result of misuse or failure to adhere to our instructions.
Products Purchased during any Promotional sale/discounted Price/ clearance Sale cannot be returned/exchanged and are excluded from our Exchange & Returns policy. No exchanges or returns will be accepted. This also includes orders with promo codes.
Returns/Exchange are not permitted for any custom-made products.